The Flight Experience

"Our imagination loves to be filled with an object, or to grasp at anything that is too big for it's capacity. We are flung into a pleasing astonishment at such unbounded views, and feel a delightful stillness and amazement in the soul at the apprehension of them."
Joseph Addison 1712
You're invited to join us for an unforgettable experience! Big Sky Balloon Co. is the premier balloon ride operator in Central Oregon. Our hot air balloon flights float you gently over one of the most dramatic landscapes in the country, encompassing high desert terrain of juniper and sage, volcanic rim rock, deep river canyons, and rural farmland. It all begins at our launch site next to Smith Rock State Park, where upon take-off you will gently rise up and over one of the most photographed land features in the entire Northwest. As we ascend you will take in the breathtaking panorama of the Central Cascade Mountains which include views of at least nine peaks on a clear day. Also keep an eye out for wildlife and many different birds of prey including Brown and Bald Eagles, Red-Tail Hawks, and Great Horned Owls just to name a few.
Ballooning is a real hands on experience and we welcome you to help with the inflation and deflation of the balloon if you like. After a short safety briefing from your pilot the inflation begins and you'll watch as this "gentle giant" comes to life. About 15 minutes later the balloon will be upright and ready for lift-off. Following the flight we'll shuttle you back to the launch site to enjoy a traditional sparkling cider toast. Total time about three hours.
Have a special occasion coming up? Weddings, engagements, anniversaries, birthdays and more. We've done it all, just let us know what you're planning and we'll be sure to create a memory that will last a lifetime! Gift Certificates are also available, contact us directly for purchase.
If you're looking for that extra something special to add to your experience we also offer flights from our private launch site on the Crooked River Canyon. Included is a post flight brunch, private art showing, as well as overnight luxury accommodations with Panacea At The Canyon. Perfect for groups and special occasions! Please inquire for more information.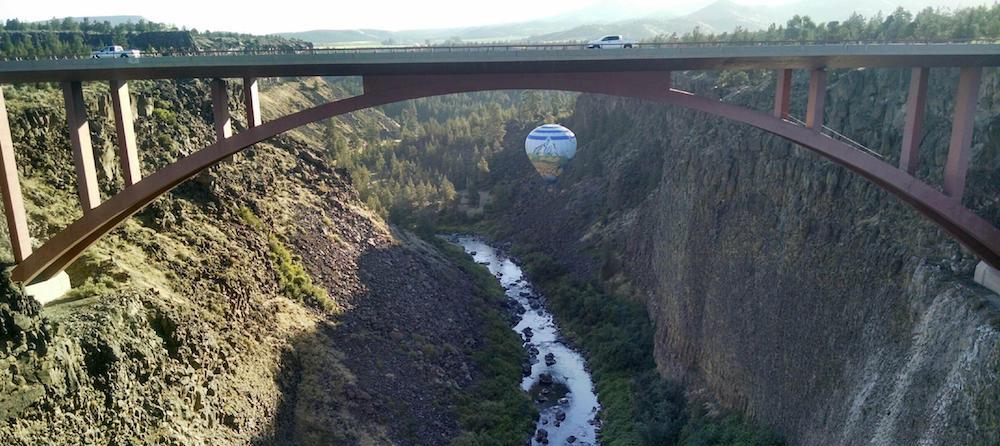 Details
We operate flights from Smith Rock Ranch in Terrebonne OR, about a 30 minute drive north of Bend. When preparing for your flight with us remember to dress warmly and in layers. Early mornings are always cool in the high dessert, but it warms up quickly and you'll want to adjust accordingly. Temperatures in flight are actually much warmer than on the ground. A hat and comfortable shoes or boots are recommended, no open toed shoes or sport sandals.
We conduct one flight a day early in the morning when wind conditions are calm and the air is stable. Safety is our top priority, flights are conducted only when the weather and wind conditions are favorable. Departure times vary from 6AM-8AM depending on the time of year. You will check-in the night before your scheduled flight to confirm the meeting time, we typically like to be in the air within 1 hour of sunrise.
Flight time is approximately one hour with the entire experience taking about three hours. We can carry up to six passengers per flight, cost is $250/person for 2 and $225/person when booking 4 or more. Please inquire for private charters. All passengers must sign the Flight Waiver prior to your scheduled flight.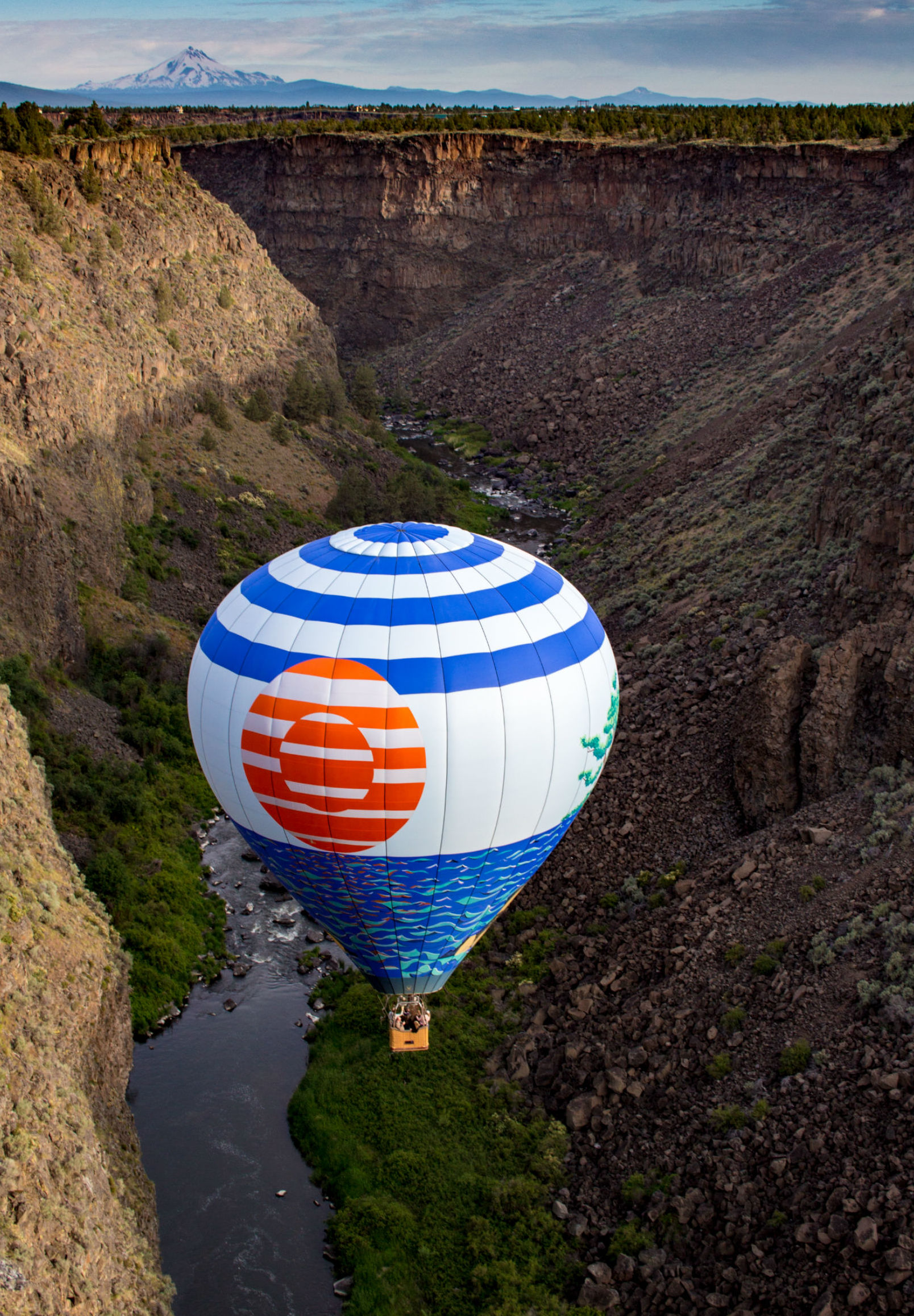 Flight Waiver
Can't do anything fun these days without a signed waiver, so please take a quick moment to sign our Hot Air Balloon Ride Waiver if you have scheduled a flight with us. Thanks!
Comments
10 Stars out of 5!!!!! My boyfriend arranged a balloon ride as a surprise for my 30th birthday. It was SO fun and SO memorable! Darren was friendly, professional and my boyfriend tells me that he "inspired confidence" from the very first call. The scenery was gorgeous (visit Smith Rock State Park before you fly for an extra special trip above Redmond). It is unbelievably quiet and relaxing once you are in the air.
Heather E. Mammoth Lakes, CA
Really enjoyed our recent balloon trip. Pilot (Darren) was friendly, professional, and very knowledgeable of area. Smooth take off and landing. Scenery from 2500 feet was stunning. Always felt safe and secure. Would do it again and will recommend without hesitation. Good fun.
Cheri W. Urbandale, IA
Such an amazing way to see our home town! Thanks for an amazing birthday for my hubby and anniversary. So much fun!
John & Megan H. Bend, OR
Excellent and professional. Great experience.
Darren and Jason did an excellent job for us. Darren is easy going and professional, and our ride was excellent. I thought it would be a bit scary, but wasn't scared at all! I asked a few questions and Darren pointed out some landmarks. He was very friendly, but also let the beauty of the flight take center stage-- meaning he did a great job not talking excessively or the entire time!
Landing and take off were smoother than I thought they would be, and my wife and I enjoyed our time. We had a family of 4 on our flight as well, they were pleasant and there was enough room for everybody.
I would highly recommend Big Sky Balloon to anybody interested!
Jason S. Portland OR
Climbing up to 1000 feet over Smith Rock, Crooked River, farm circles, corn mazes and the Central Oregon high desert was a beautiful way to celebrate our 25th wedding anniversary. Big Sky Balloon owner and pilot, Darren Kling showed us a fabulous time, narrating our ride, answering all our questions and finally bringing us back to earth with a soft landing and complimentary greeting by a herd of steers. What a spectacular treat for our special occasion!!! And if you want to get married, get carried up, up and away, as Darren is licensed to perform your ceremony from on high. So cool! Just do it!
Deborah D. Federal Way WA